Deboner and Tulip Processer
The ST840 chicken tulip & deboning machine is very multifunctional… 6 in one! This machine is an upgrade of the ST828 thigh, drum and prime wing deboner with an integrated tulip processing unit, easily initiated. Only a few changes need to be made on the machine to change from deboning to tulip processing in a matter of minutes. Having all advantages of the ST828, high accuracy, adjustable meat compression and versatility can be added to the list! And all of this at a low investment cost!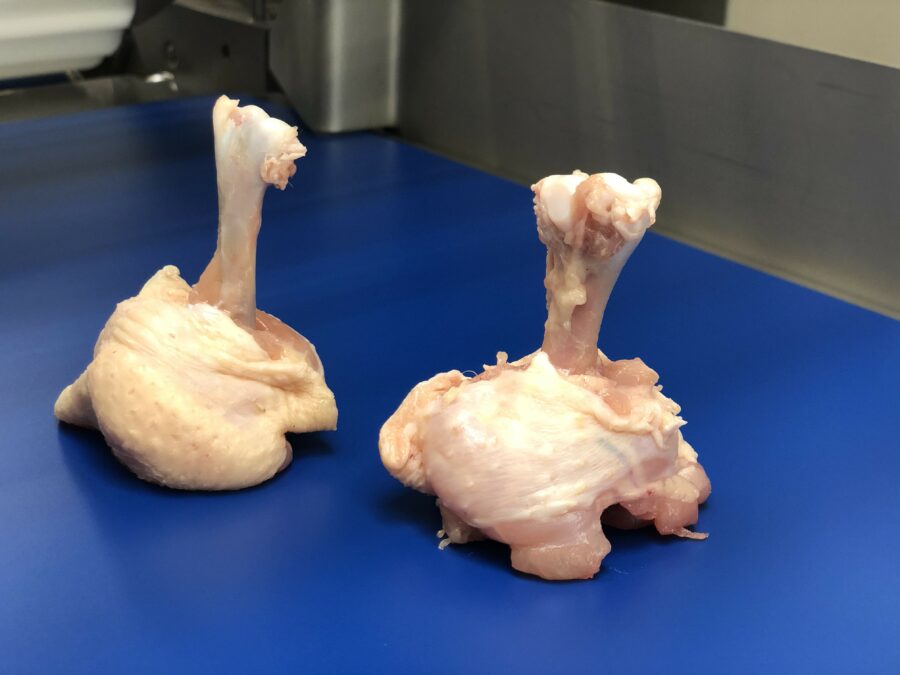 Features
Can be used for deboning (D) and tulip (T) formation of:
| | | | |
| --- | --- | --- | --- |
| | | | |
| Thigh (D) | ✓ | ✓ | ✓ |
| Drum (D) | ✓ | ✓ | ✓ |
| Prime Wing (D) | ✓ | ✓ | |
| rThigh (T) | ✓ | ✓ | |
| rDrum (T) | ✓ | ✓ | |
| rPrime Wing (T) | ✓ | ✓ | |
Product
Water and air chilled products

Deboning and tulip processor in one:

Deboning of anatomical cut thigh, drum and prime wing (excl. pheasant)
Tulip processing of anatomical cut thigh, drum and prime wing (excl. pheasant)

No precutting needed!

Meat in one piece
Bone unbroken (99%)*
* Bone needs to be cut anatomically, unbroken and intact before deboning
Machine
Up to 45pcs/minute with one operator: speed regulatable
1 to 3 operators with trimming belt (1 feeding, 2 trimmers)
Very small footprint
Small, medium and professional processors
High quality of deboning and tulip processing
Excellent yield
Unique pre-formed trays for product
4 dedicated units and 4 counter units
No pressure on diaphragm
Switching between deboning and tulip setup takes max 15 minutes
Meat compression on bone is easy adjustable
Electrical and pneumatic system with required minimum pressure
Horizontal feeding
Standard & Options
Outfeed belt or belt/ trimming table for cartilage removal available
Electronically monitored guards
Infeed safety
Sensor which prevents cylinder malfunction in the machine
Low pressure sensor integrated
All parts for deboning and tulip processing included
Different diaphragm and spacer sizes available
USP
Best available techniques, durable and thicker materials
Very fast return on investment and long lifetime
All stainless steel and food grade materials
Conform CE requirements
Chicken tulip & deboning machine
Want to know more about this product?
Chicken tulip & deboning machine