The ST800 automatic chicken deboning machine is a true asset for your process and puts focus on capacity, yield, and user friendliness. 38 designated and pre-formed infeed trays makes it easier to feed the machine correctly. This helps you reach the +6500 pieces per hour capacity. Changing all the rubbers to switch between parts takes only 5 minutes. This is thanks to the quick lock and release system of the diaphram holders. Our one of a kind system also does not put any pressure on the diaphragm. This results in maximum 1% bone breakage and is why it is great for dark meat deboning. The machine is also standard built with an air controlled machine hood and is delivered with a meat outfeed belt. What more do you need?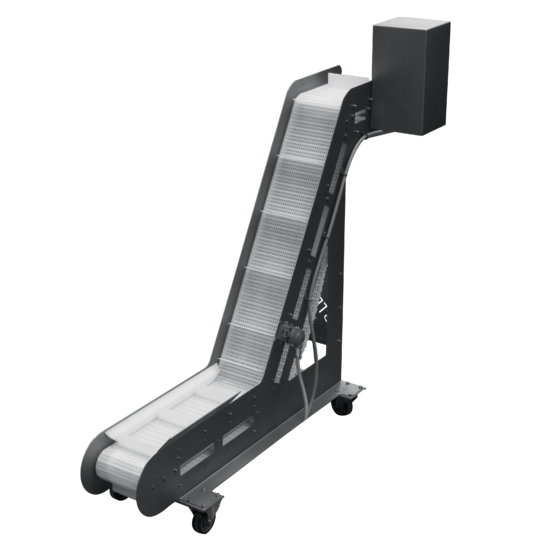 Features
Can be used for deboning anatomical cut:
| | | | |
| --- | --- | --- | --- |
| | | | |
| Thigh | ✓ | ✓ | ✓ |
| Drum | ✓ | ✓ | ✓ |
| Prime Wing | ✓ | ✓ | |
Product
Water and air chilled products
Anatomical cut thigh, drum and prime wing deboning (excl. pheasant)
Meat in one piece

No precutting needed!

Bone unbroken (99%)*
* Bone needs to be cut anatomically, unbroken and intact before deboning.
Machine
High speed: up to +/-112pcs/min: speed regulatable
1 to 2 operators
Small footprint
Medium and professional processors
High quality of deboning
Excellent yield
Unique pre-formed trays for product
38 dedicated units
No pressure on diaphragm
Horizontal feeding
Standard & Options
Pneumatic operated hood
Outfeed belt included
Belt/ trimming table for cartilage removal available
Electronically monitored guards
Infeed safety
Different diaphragm sizes available

Easy and toolless changing of diaphragm
USP
Best available techniques, durable and thicker materials
Very fast return on investment and long lifetime
All stainless steel and food grade materials
Conform CE requirements
More videos available on our YouTube channel – STEEN TV
Automatic chicken deboning machine
Want to know more about this product?
Automatic chicken deboning machine